Our Mission
To provide best practices for our military, veterans, and their families through accessible programs, integrated resources, and collaborative partnerships that empower lives and strengthen our community.
OUR PROGRAMS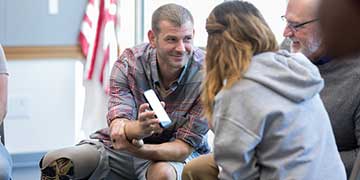 Behavioral Health & Wellness
Onsite Counseling Services
Telehealth Therapy
Support Groups
Alternative Therapies
Retreats
Veteran & Family Resources
Financial Coaching & Assistance
Housing & Food Aid
Educations Programs
Legal Support
Homeless Veteran Outreach
Transition & Employment
Military Career Transition
Employment Workshops
MilSpouse Career Program
Veteran Job Coaching
Community Partnership Resources
Interested in volunteering?
Let us know!